Features just a few
Combined Planner and Module Database
Works on iPad
Rate your favorite modules and find the most popular modules based on user ratings
Upload modules, edit and correct specs
Show off and link to your Modular Sketches from forums
Contribute, put this site to life and have fun!
Sign me up! ... yes, it's free!
The suspicious crowd can even create an anonymous account.
---
TrueGrid true modular web synthesizer
TrueGrid is a fully functional modular web synthesizer which let's you create, listen and share modular synth patches.
Make awesome noise with TrueGrid!
Beta version is currently working on Google Chrome and Safari.
---
Modular News
We spy on the social networks to get your daily modular info demands fixed.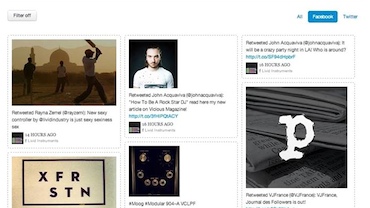 Visit Modular News
---
For feedback, questions, bug reports you can visit the thread on Muffwiggler. Or go to the ModularGrid Facebook Page.
---
Want to support me? Buy my Album!
Some people asked how to support me. Easy. Listen to my album misplaced, abandoned. If you like it, buy it. This way I am getting super rich AND insane famous!
Available in online shops
iTunes | Amazon | Juno Download | Beatport
Me on the internets
YouTube
|
Soundcloud
|
Mixcloud
|
Facebook
|
Solitud.de
---